We woke up and went to breakfast with my parents in Myrtle Beach. We then hopped back on the boat said our goodbyes and headed south towards Georgetown, SC. Today offered nice cruising, wide waterways and few no wake zones. Some of the houses along the waterway are so large its unimaginable. How fun to sit on your dock and watch cruisers and sailboats all day??
We did have one swing bridge the Socastee swing bridge with only 9ft clearance. I'm quickly learning how to radio the bridge tender for opening and get called Captain a lot. We all know I'm actually the Admiral which out ranks the captain but I feel it's not necessary to correct them 🙂
We then entered the Waccamaw River which was a nice scenic cruise with less boats and less no wake zones as I mentioned. There were several marinas tucked back in quiet coves.
We also entered a rain storm and slowed through it. Our new enclosure was much needed! More Waccamaw and lots of cypress trees lining the shore. Definitely a pretty ride. We slowed a few miles before the bridge at Georgetown for what seemed like a long ride thru a wide choppy channel to keep Peyton from waking up from a nap.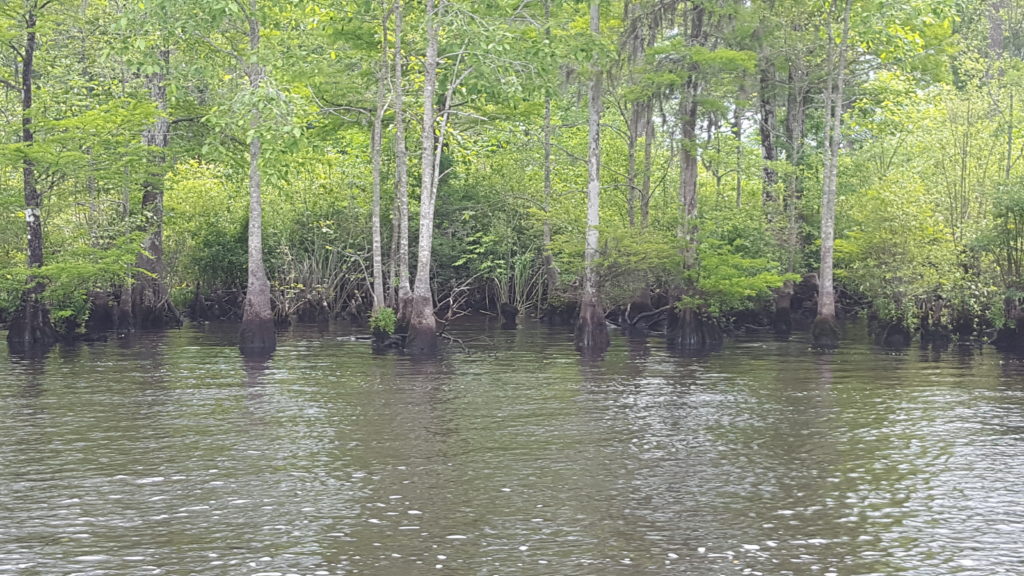 We radioed the marina where we were staying for the night and they squeezed us in between two other boats as only professionals could. Philip got a nice "Atta boy" from the large boat behind us. They were headed from Georgetown to Beaufort, NC tomorrow and have been going outside to the ocean. They said they got beat up today in 6-8 foot waves. Cruising they could do about 21 mph and we get about 25mph.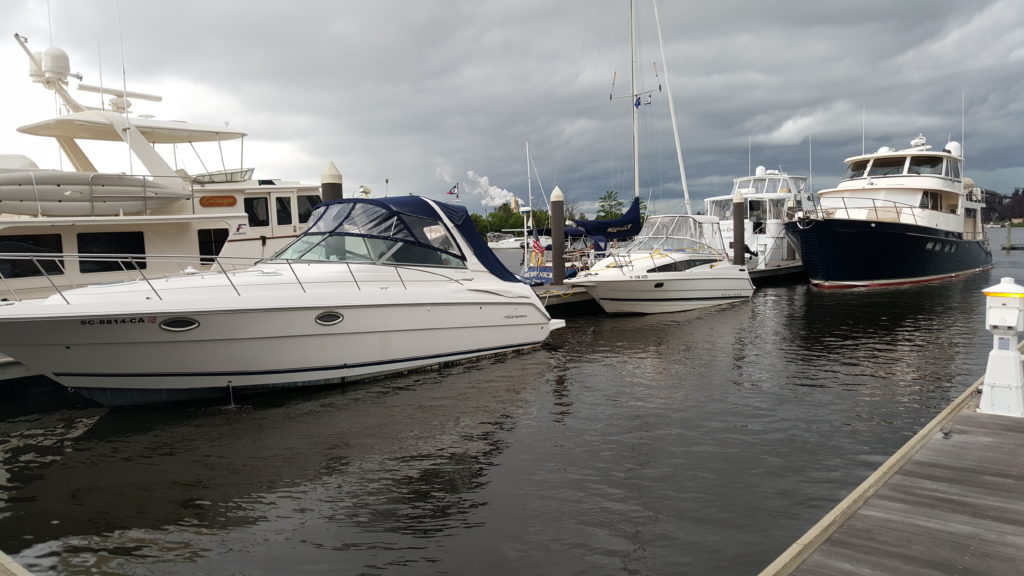 We went to dinner at Big Tuna, a local fresh off the boat fish house. This was my favorite meal so far. Anything fresh from the ocean I love!!! You can't get this kind of seafood in Roanoke. We had a little gator looking for a meal too. We hustled back to the boat where Peyton played for an hour on the upper deck of the boat thru a rain storm (she is truly a boat girl!!) then went back out to Buzz's Roost for some dessert. Nightly chart planning and good night.
Date
Sunday, May 1, 2016
Depart
Barefoot Marina, Myrtle Beach, SC [map]
Arrive
Harborwalk Marina, Georgetown, SC [map]
Weather
Myrtle Beach, SC
Overcast
High 76, Low 68
Winds SE 8, Gusts to 19
Visibility: 8 Miles
Fog , Rain , Thunderstorm
Weather
Georgetown, SC
Overcast
High 78, Low 66
Winds SSE 8, Gusts to 22
Visibility: 9 Miles
Rain, Thunderstorms
Miles Traveled
51.47 SM / 44.73 NM
Fuel Purchased
31.8 Gallons
GPX Route
ICW SB – Myrtle Beach, SC to Georgetown, SC